Willkommen, Bienvenue, Welcome !!!
It is the city of Berlin in 1930, a time when political unrest racks the country, the economy has been destroyed, and millions of unemployed roam the streets. Enter into this chaos an British cabaret dancer, working at the downtown "Kit-Kat club" where anything goes on the stage. Into this young dancer's life come several characters such as a rich German politician, a young Jewish man struggling with his identity, an American teacher , and of course the all-knowing, all-seeing Master of Ceremonies.
So, life is disappointing?
Forget it! We have NO troubles here!
Here life is beautiful.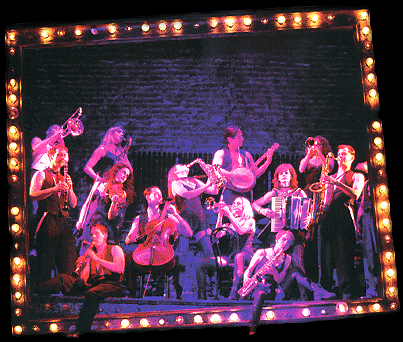 Original Roundabout Production Cast
Emcee- Alan Cumming

Kit Kat Girls:
Rosie- Christina Pawl
Lulu- Erin Hill
Frenchie- Joyce Chittick
Texas- Leenya Rideout
Fritzie-Michele Pawk
Helga- Kristin Olness

Kit Kat Boys:
Bobby- Michael O'Donnell
Victor- Brian Duguay
Hans- Billl Szobody

Sally Bowles- Natasha Richardson
Clifford Bradshaw- John Benjamin Hickey
Ernst Ludwig- Denis O'Hare
Customs Offical- Fred Rose & Alan Cumming
Fraulein Schneider- Mary louis Wilson
Fraulein Kost- Michele Pawk
Rudy- Bill Szobody
Herr Schultz- Ron Rifkin
Max- Fred Rose
Gorilla- Joyce Chittick
Boy Soprano (prerecorded)- Alex Bowen

Life is a Cabaret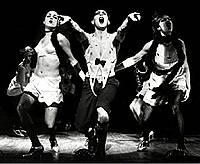 Song List
Willkomen
So What
Don't tell Mama
Mein Herr
Perfectly Marvelous
Two Ladies
It Couldn't Please Me More
Tomorrow Belongs to Me
Maybe This Time
Money
Married
Tomorrow Belongs to Me (Reprise)
Entr'Acte
Married (Reprise)
If You Could See her
What Would You Do?
I Don't Care Much
Cabaret
Finale