The story-telling magic of ABBA's timeless songs propels this enchanting tale of love, laughter and friendship, and every night everyone's having the time of their lives!
ORIGINAL BROADWAY CAST
Louise Pitre Donna Sheridan
Judy Kaye Rosie
Tina Maddigan Sophie Sheridan
Karen Mason Tanya
Dean Nolen Harry Bright
David W. Keeley Sam Carmichael
Ken Marks Bill Austin
Joe Machota Sky
Mark Price Pepper
Tonya Doran Lisa
Michael Benjamin Washington Eddie
Bill Carmichael Father Alexandrios/Ensemble
Ensemble
Meredith Akins, Tony Carlin, Yuka Takara, Sara Inbar, Robin Baxter, Leslie Alexander, Adam Monley, Stephan Alexander, Meghann Dreyfuss, Chris Prinzo, Brent Black, Somer Lee Graham, Peter Matthew Smith, Kim-E J. Balmilero, Marsha Waterbury, Kristin McDonald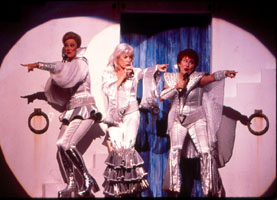 Song List
HONEY HONEY
MONEY, MONEY, MONEY
THANK YOU FOR THE MUSIC
MAMMA MIA
CHIQUITITA
DANCIN QUEEN
LAY ALL YOUR LOVE ON ME
SUPER TROUPER
GIMME! GIMME! GIMME!
THE NAME OF THE GAME
VOULEZ-VOUS
UNDER ATTACK
ONE OF US
S.O.S.
DOES YOUR MOTHER KNOW
KNOWING ME, KNOWING YOU
OUR LAST SUMMER
SLIPPING THROUGH MY FINGERS
THE WINNER TAKES IT ALL
TAKE A CHANCE ON ME
I DO, I DO, I DO, I DO, I DO
I HAVE A DREAM

ENCORE
MAMMA MIA
DANCIN QUEEN
WATERLOO
In the preview night the musical had the song Summer Night City just after the prologue. The Summer Night City scene was a wedding rehearse, during the song Ali and Lisa, Tanya and Rosie arrive in the island.