A Chorus Line was not just another hit show. It spoke to and for a generation. For those who loved it, the theater was forever changed, and our lives forever enriched by this "singular sensation."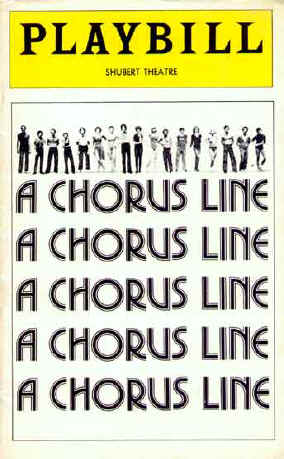 Step, kick, kick, leap, kick, touch ... again, step, kick, kick, leap, kick, touch ... turn, turn, touch down, back step, pivot step, walk, walk, walk. These words start the show and lead into the hopes, fears, frustrations, and insecurities of a group of 18 dancers auditioning for a an 8-member chorus line. Performed as a series of vignettes, the show revolves around the making of a dancer.
ORIGINAL BROADWAY CAST

Don Kerr - Ron Kuhlman

Maggie Winslow - Kay Cole

Mike Costa - Wayne Cilento

Connie Wong - Baayork Lee

Gregory Gardner - Michel Stuart

Cassie Ferguson - Donna McKechnie

Sheila Bryant - Kelly (Carole) Bishop

Bobby Mills III - Thommie Walsh

Bebe Benzenheimer - Nancy Lane

Judy Turner - Patricia Garland

Richie Walters - Ronald Dennis

Alan DeLuca - Don Percassi

Kristine Urich - Renee Baughman

Valerie Clark - Pamela Blair

Mark Anthony - Cameron Mason

Paul San Marco - Sammy Williams

Diana Morales - Priscilla Lopez

Larry - Clive (Clerk) Wilson

Zach - Robert LuPone

Vicki - Crissy Wilzak

Butch - Chuck Cissel

Trisha - Donna Drake

Tom - Brandt Edwards

Lois - Carolyn Kirsch

Frank - Michael Serrecchia

Roy - Scott Allen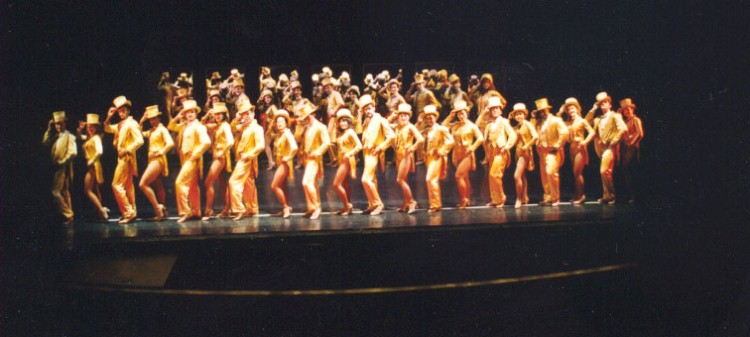 Winner of ten Tony Awards, including Best Musical, the Pulitzer Prize for Drama, the New York Drama Critics Award for Best Musical, and five Drama Desk Awards.