ORIGINAL BROADWAY CAST
John Tartaglia Princeton/Rod
Stephanie D'Abruzzo Kate Monster/Lucy the Slut/Others
Ann Harada Christmas Eve
Rick Lyon Nicky/Trekkie Monster/Bear/Others
Natalie Venetia Belcon Gary Coleman
Jennifer Barnhart Mrs. T/Bear/Other Characters
Jordan Gelber Brian
Peter Linz Ensemble
Jodi Eichelberger Ensemble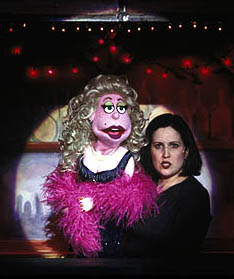 Song List
The Avenue Q Theme
What Do You Do with a B.A. in English?
It Sucks To Be Me
If You Were Gay
Purpose
Everyone's A Little Bit Racist
The Internet Is For Porn
Mix Tape
I'm Not Wearing Underwear Today
Special
You Can Be as Loud as the Hell You Want (When You're Makin' Love)
Fantasies Come True
My Girlfriend, Who Lives in Canada
There's a Fine, Fine Line
There Is Life Outside Your Apartment
The More You Ruv Someone
Schadenfreude
I Wish I Could Go Back to College
The Money Song
School For Monsters/The Money Song (Reprise)
There's a Fine, Fine Line (Reprise)
For Now

Winner of the 2004 Tony Award for Best Musical.